Stress Tensor Gradients in One Dimension: Tensor Tubes
Many problems in continuum mechanics emphasize continuous changes in tensor properties: such as the comoving derivative of a property associated with a fluid particle moving through a fluid in Eulerian space or continuous lines of principal stress in a solid where the deformation field is defined in Lagrangian space. In the Haber glyph example clusters of stress tensors were used to envision a stress gradient near a crack tip in Lagragian space. However when this same array of stress glyphs moved with the crack tip, these stress gradients were envisioned to change as they moved through space, which is an Eulerian concept. This regularly space array of Haber glyphs shown in Fig. 36 must be spaced so as not to obscure the isosurfaces of kinetic energy density and color gradients of strain energy density. Unfortunately there is a large stress gradient near crack tips, which requires closer spacing of stress tensor glyphs to accurately recover the gradient in this region. These are conflicting issues that can be resovled by creating continuous stress tensor tubes.
Delmarcelle, Hesselink and Helman [15, 16] envisioned continuous changes of second order tensor fields as a stress tensor tube. Stress tensor tubes are an extension of the Haber glyph, where the perimeter of the Haber glyph (σb,σc) is used to create the tube's surface and the length of the rod (σa) is mapped as color onto the perimeter. This technique is used to envision very small changes in the second order stress tensor corresponding to small changes in distance, ΔX3. The components (σa,σb,σc) used to construct the tube can also be envisioned as the major, intermediate, and minor axes of the PNS stress tensor ellipsoid, Fig. 51. Here the minor axes, σc is used to map color on the perimeter.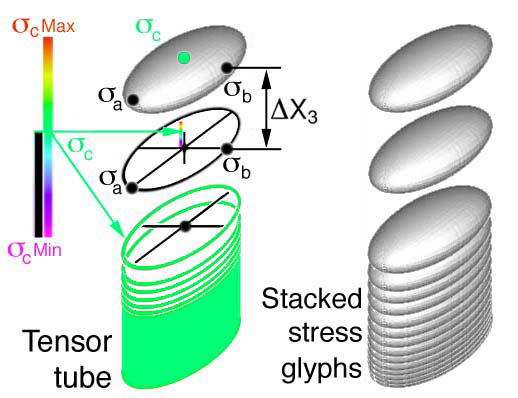 Figure 51. Creation of stress tensor tubes from stacked PNS ellipsoidal glyphs.
In Fig. 52 the center of the two glyph tubes propagate upward along trajectories or line s that represent the direction (eigenvector) of the largest compressive stress. In this figure the color represents the magnitude of the largest compressive stress (the minor eigenvalue). The shape of the tube represents the magnitudes of the other two eigenvalues. Similar trajectories near the bottom of the figure for the other two eigenvectors take a shape that is everywhere perpendicular to the most compressive stress. These flat tened tubes show that one of the eigenvalues must be close to zero.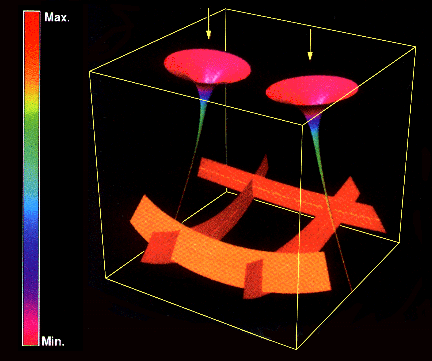 Figure 52. Elastic-stress tensor field in a solid induced by two compressive forces applied at the top surface, Refs. [15, 16].
The next figure, Fig. 53, shows how the shape of the tubes in Fig. 52 change if an additional tension force is applied at the top surface (the exact location is not specified) Ref. [15, 16]. The shape of these glyphs are shown to change with increasing tension force (a) -> (b) -> (c) -> (d).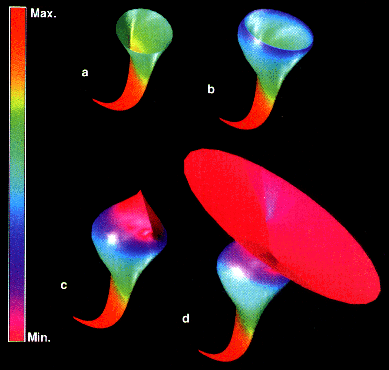 Figure 53. Elastic-stress tensor field glyphs shape changed by additional tension surface force. Glyph (c) shows that one of the principal stresses is zero, Refs. [15, 16]
In this example the magnitude of the compressive principal stress was mapped as color on the continuous stress tensor glyph. Many other combinations are discussed in Ref. [15,16].
Tensor tubes prove to be useful when envisioning gradients in one direction: e.g. in Fig. 51 as ΔX3 approaches zero the stacked PNS elllipsoidal glyphs obscure informaton in the X3 direction, however color can be used to recover this information but only in X3 direction. Since mathematical concept of gradients is three-dimensional, another visual approach is explored that envisions gradients of stress tensors in all three-dimensions.
Point Stress Tensor Gradients in Three Dimensions

Gradients of second order stress tensors in three-dimensions can be envisioned by drawing a collection of evenly space stress tensor glyphs in RCC space. Either quadric, Haber, HWY, or PNS glyphs can be used, however in Fig. 54 the PNS ellipsoidal glyph is used for simplicity. The center PNS glyph is used as the reference glyph and the surrounding PNS glyphs are located at evenly spaced distances, ΔX1, ΔX2, and ΔX3, which would be seen as a collection of glyphs located to the north, south, east, west, front, and back of the center glyph, Fig. 54.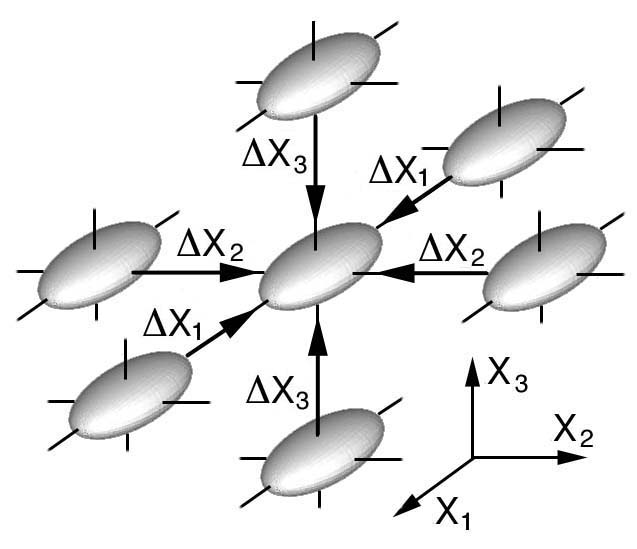 Figure 54. Stress glyph gradient where there is no change in shape or orientation of the nearest neighboring stress glyphs collapsing onto the center glyph.

If the glyph spacing is small but the 3D collection of glyphs does not obscure the viewer from seeing how glyphs change their shape and orientation as these glyphs collapse onto the center glyph, than the viewer is seeing a stress gradient within a discrete change in space.

Δσij / ΔXk        (32)

In the limit as ΔXk goes to zero, Eqn. (32) reduces to

σij,k        (33)

which transforms as a third order tensor. Summing forces requires a contraction on the "i" and "k" indices which yields,

σkj,k        (34)

Comparing Eqn. (34) with equilibrium equation, σji,j = 0, suggests that it may be possible to envision the stress state of static force equilibrium as a 3D gradient, but only if the viewer can visually confirm that Eqn. (34) sums to zero, on indice "k". Since the stress glyphs shown in Fig. 54 are all the same, the gradient, σij,i, for this case is indeed zero. A trivial case. However if the stress glyphs surrounding the center glyph all have different shapes and orientations, then it is debatable if the observer can envision how the summation, σkj,k,, goes to zero. However any gradient in Fig. 54 does indeed visually represent force equilibrium but only in the limit as ΔXk goes to zero. This limiting process could be more accurately envisioned as animation where surrounding glyphs shape, color and orientation change as they collapse onto the center glyph. It is not difficult to extend this visual method to include time, which would than visually represent a commoving derivative of stress with respect to space and time.

The collection of glyphs in Fig. 54 envisions the gradient collapsing or expanding on the center glyph but only for one particular orientation, σji,j=0, which satisfies equilibrium in this particular direction. However equilibrium is a law, therefore it must exist in all possible directions and arbitrarily so. This idea of invariance in a physical sense is the same as invariance in a mathematical sense by transforming each term in the equlibrium equation, σ'kj,k=0. The apostrophy symbolically represents this arbitrary mathematical transformation. The fact that the equation maintains it's form after such an arbitrary transformation is the idea of mathematical invariance. How would we envision a collection of glyphs that would visually represent a gradient in any arbitrary direction? What would this 3D image look like? One possible implementation of this idea is to envision an infinite set of stress quadric surface glyphs propagating outward from the center glyph in all possible directions simultaneously. This collection of stress tensor glyphs would be expanding not collapsing. This idea is similar to Huygen's principle for 2D plane waves eminating from a point, but using 3D stress quadric surface glyphs instead. An expanding 3D small multiple of 3D objects. This image would be difficult to envision and represents a limit in our visual cognitive ability to envision stress gradients in any arbitrary direction. Although difficult for mortals to envision, such a surface would be seen as symmetric -- a necessary requirement to satisfy equilibrium and it's gradients.
---
---
Envisioning Fourth-Order Stiffness Tensors, Cijkl
Glyphs can also be used to better understand higher order tensors. For example, fourth order stiffness tensor, Cijkl, can also be envisioned using simple glyphs. The fourth order stiffness tensor relates all of the components of the second-order strain tensor, lkl to the second-order stress tensor, σij.




σij = Cijkl lkl      (35)




This relationship is called generalized Hooke's law. This equation is a tensor equation and can not be written in matrix notation unless using contracted Voigt notation. This contracted format is written as 6x6 matrice, however these contract terms will not transform as tensor components. Here the tensor format is maintain that will prove useful when envisioning physical properties associated with mathemtical invariance of tensor equations. This mathematic invariance can be demonstrated when each term of the tensor Eqn. (36) is transformed as a tensor of that order and the original form of the tensor equation remains unchanged. When Eqn. (35) is combinded with the equations of motion, the result is another tensor equation called the Christoffel's equations of motion, Eqn. (36). A complete development of Christoffel's equations can be studied at: Introduction to Mechanical Behavior of Anisotropic Materials: Geometric Representations of Elastic Anisotropy: All Tensor Components, Cijkl".



        (36)



If the indices are expanded, Eqn. (36) reduces to eigen-value problem, where the eigenvalues, ρv2, are related to the wave speeds, v, and density, ρ, and the eigenvectors are the particle vibration directions, pk, of Eqn. (36). The surface shown in Fig. 55 is generated by prescribing all possible directions, νi and νj in Eqn. (36) and mapping out all of these solutions as a glyph: the eigen-value solutions, wave velocities, v, is the distance from the geomtric center to the surface and the eigen-vector solutions are used to map a color for each eigen-value solution at the point where the pointing vector, νi, intersects the surface. Since both the eigen-values and their corresponding eigen-vectors are functions only of Cijkl, see Eqn. (36), then the surface shape and colors shown in Fig. 55 can be used to envision this fourth-order stiffness tensor. Because all terms of the fourth-order tensor were used to calculate the wave surface and its colors we see the relationship between the eigenvalues and their corresponding eigenvectors at every point on this surface. We can also observe the spin properties of the displacement fields as color gradients that exist near degeneracies in the eigen-values that appear as the concave portion of the wave surface that collapse to a point (see black region). It is through these degeneracies that wave surfaces can interconnect into single continuous connected wave surfaces (mode-transitions at eigen-value degeneracies ) Kriz and Ledbetter [18]. At these same degeneracies internal conical refraction exist. Again the mathematical invariant property of tensor equations is used here to develop an understanding of the physical properties envisioned in Fig. 55.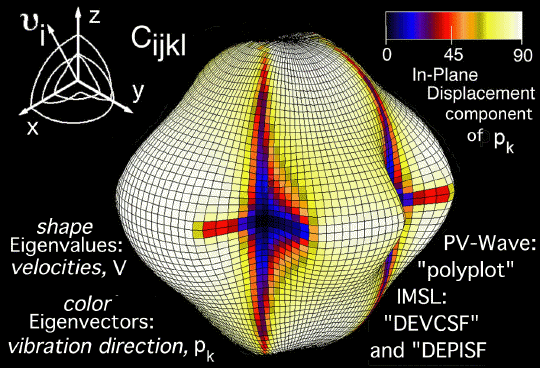 Figure 55. Fourth order stiffness tensor glyph for a single crystal of Calcium Formate (orthorhombic symmetry). Shape of surface maps the wave velocity for the fastest of the two quasi-transverse waves [17,18]. Here only the intermediate wave surface is shown. The outermost and inner most wave surfaces are not shown. Visual Numerics PV-Wave software, Ref. [21], maps the particle vibration directions onto the glyph surface as color: black corresponds to longitudinal (0o) vibration directions and white corresponds to transverse (90o).
Several researchers [17, 18, 19, 20] have used Christoffel's equation to study the symmetries of waves propagating in different crystal class symmetries. A summary of results for differnt crystal class symmetries is present here as an example.
3D Cijkl Wavesurfaces: Here numerous web links are provided. Wave surface geometries are defined as it represents the fourth order stiffenss tensor, Cijkl. VRML files viewable with Cosmo Plugin ( download for Windows Web browsers) or with the Cortona Plugin ( ParallelGraphics Inc.: for Windows, Mac and MacOS-X). Access details on how-to-create these wave surfaces. Create your own Cijkl fourth order tensor glyphs using the Network Programming Interface Builder (NPIB). Below are archived examples of the most common crystal class symmetries.
The reader interested in the tensor approach to this dynamic problem is encouraged to study references [17, 18, 19]. For the reader only interested in the previous example of the principal stress state, it is not difficult to show that equation (36) reduces to equation (15). This is a simple task using tensor notation. Both equations are rewritten here to facilite the comparison.

         
      (36)



         (15)

This comparison is possible by assigning a double contraction of the direction cosine, "pointing", tensors, νi and νj, with the fourth order stiffness tensor, Cijkl, where if we let



      (37) and (38)



and the scalar terms



                    (39)



Eqn. (36) reduces to the same tensor equation that defines the eigen-value problem, Eqn. (15),



           (40).



Except for the term, βij which is contracted with the fourth order stiffness tensor, Cijkl, see Eqn. (37), the βij term in Eqn. (40) is not just a simple second order tensor like σij, but derives its properties from a higher order tensor and hence enjoys a much richer surface topology shown in Fig. 55 then the simple PNS ellipsoid geometry for σij.
The fact that Eqn.s (36) and (15) have the same invariant tensoral form supports the idea, proposed in section Point Stress Tensor Gradients in Three Dimensions, that a continuous stress gradient in all directions, envisioned as a surface generated by an infinite set of stress quadric surfaces expanding out from the center glyph, would generate a surface similar to an infinite set of 2D plane waves eminating from a point. Indeed the surface generated by Eqn. (36), Fig. 56, starts at a point, which is envisioned as a spherical dilatation constructed of an infinite number of 2D plane waves expanding out in all directions simultaneously. Each of these plane waves travels in a specific direction called the pointing vector, νi, at a speed that corresponds to elastic properties in the same direction. Hence, plane waves traveling in different directions in an anisotropic material will travel at different speeds and the continuous collection of all connected plane waves, although initially a sphere, soon deviates into a non-spherical shape simply because a plane wave will travel faster in stiffer directions and slower in less stiff directions. The final result is envisioned as three wave surfaces connected together through their points of degeneracies as shown in Fig. 56 and also in the schematic in the upper left corner of Fig. 55.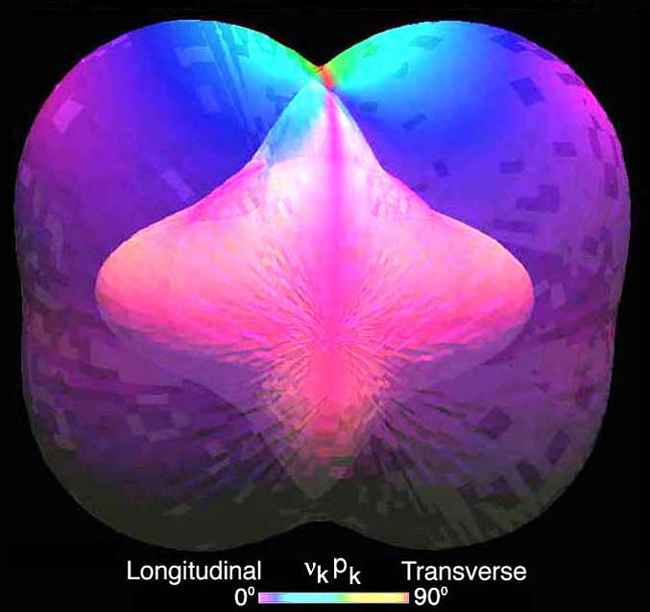 Figure 56. Complete solution to Christoffel's Eqn. (36) for Calcium Formate envisioned using translucency: VRML-1 and VRML-2.
In Fig. 56 the outer two, faster, wave surfaces are shown using translucency so that the inner two, slower, wave surface structures can be seen as a single surface connected to the outer surface. The single connected surface is seen schematically in the upper left corner of Fig. 55 and immersively by using head tracking in a back projected immersive environment. Together these three surfaces are the collection of all eigen-values solutions mapped out in all directions. This is similar to mapping out all solutions to Cauchy's equation, which is equivalent to the statement of equilibrium when mapping out the stress quadric surface, Eqn. (27). Hence the mathematical invariance of Cauchy's equation envisions static equilibrium in Fig.s 32 and 34, the same as invariance of Christoffel's equation is used to envision dynamic equilibrium in Fig. 56. This supports the idea proposed in the introduction, that "enhanced understanding is realized when graphical models are created together with the development of the mathematical models". Because Eqn.s (36) and (15) are tensor equations, information embedded in Fig.s 32, 34, and 56 facilitates discovery and insight that transcends presentational value.
These 3D wave surfaces propagate through anisotropic materials modelled at the macroscale as a continuum. However it is well known that anisotropy is a property associated with different crystal class symmetries modelled as unit cells at the nanoscale. These continuum and nanoscale models can be combined and compared visually by embedding a continuum of unit cells inside connected translucent 3D wavesurfaces. This visual comparison is insightful in the sense that the wave surface bulges correspond to the orientations of the unit cell bonds. This idea was also submitted to the 2003 NSF Science and Engineering Visualization Challenge, Visualization of Structure-Property Relationships: Spanning the Length Scales (nano to macro). Linking the macro (continuum) and nanoscales visually is shown in Fig. 57. Insight is NOT realized by well designed graphics, but rather by prior knowledge and a fundamental understanding of tensors, tensor equations, continuum mechanics, unit cell crystal class symmetries. Well designed graphics is necessary but realizing a cognitive link to a fundamental understanding of the science is the sufficient condition for insight. Unfortunately insight within a scientific context was not a criterion used by the National Science Foundation in their contest.

Figure 57. Linking the macro- and nano-scales. Understanding material anisotropy of Calcium Formate.
Future Cijkl-glyphs will include a continuum of unit cells corresponding to their crystal class symmetries and principal material axes used to define glyph orientation.
---
---
Envisioning Sixth-Order Stress Induced Anisotropy Tensors, Cijklmn
Following the same idea presented in the development of Eqn. (40), it is possible to show that the Cijkl term in Eqn. (36) is a contraction of a higher order tensor, that is the sixth order tensor, Cijklmn, associated with stress induced anisotropy, which is called the "acousto-elasticity effect.

Personal notes from Professor David Barnett at Standford University on the derivation of acousto-elastic effect, are rewritten here, and show how equation (36) [see above] can be modified to include an effective fourth order tensor that is a function of an applied stress and the sixth order tensor C*ijklmn, see equation (35) on Page-6 in the derivation [Pages 1-8]: Page-1, Page-2, Page-3, Page-4, Page-5, Page-6, Page-7, Page-8.

The idea that an applied NORMALstress can change the propagation direction of stress wave enegy flux was the basis for an "Invention Discription", see Page-9, which resulted in Patent 5,209,123, see Page-10. This idea originated and was proposed by W.H. Prosser (NASA) in a letter to R.D. Kriz (NBS): Page-11, Page-12, Page-13, Page-14, Page-15, Page-16, Page-17, Page-18, Page-19. This idea was subsequently published, Ref.[22].


However when SHEAR stresses were applied to the same Gr/Ep composites, even larger energy flux deviations were predicted for Quasi-Transverse (QT) ultrasonic-waves. This idea was a topic in Professor Arun K. Nair's Ph.D. Dissertation,